Manchester Thunder vs Leeds Rhinos
Manchester Thunder earned the bragging rights the first roses derby game for over four years with a 48-41 victory.
A game against Leeds Rhinos was not just a derby day, but a game with plenty of surrounding interest with former Thunder coach Dan Ryan, now at the Rhinos helm. Three former players Jade Clarke, Paige Kindred and Amelia Hall also lined up in the Rhinos squad in what was set to be a tough game.
After a strong performance against Dragons last week wing attack Alicia Scholes earned her starting debut while Caroline O'Hanlon was retained the centre bib. Meanwhile Thunder's captain Emma Dovey remains out with a niggling ankle injury that she sustained against Bath and Berri Neil due to illness.
Vice-captain Laura Malcolm stood in for Dovey once again and the game began in true war of the roses tradition with bodies on the line right from the start and neither team giving an inch. Thunder struggled to find their flow early and with the game level after 10 minutes head coach Karen Greig had seen enough and brought on Amy Carter at centre, moving Caroline O'Hanlon to wing attack as Thunder tried to find what works best in centre court. With an end-to-end game, Thunder struggled to find the answer, and quickly; Rhinos found easy ways through their defence to gain a three-goal lead in the first quarter 12 -9.
Knowing that Leeds Rhinos have won every game when they've won their first quarter, Thunder couldn't afford to let them increase their lead. The black and yellows defence tightened up, with Kerry Almond making some great interceptions to stop a few crucial goals. This raised some questions for Rhinos who struggled to answer back to the switches. Thunder managed to get back in the game by putting pressure on that centre pass to goal where Joyce Mvula gets better throughout the game.
Momentum continued allowing Thunder to close the gap, equal the scores then overtake the Leeds Rhinos score, with Thunder entering half time with 25 goals to Rhinos 20. Thunder scored double what Rhinos did with 16 goals in 12 minutes, reversing the deficit.
Captain Laura Malcolm at half-time commented: "I think it's just about being relentless defensively. It is a derby; we haven't had a derby for a long time and it's about being gritty and grinding it out. They absolutely brought it to us, so we just need to match that and be more relentless again."
Entering quarter three down, The Rhinos increased their pace with some changes to chase the lead Thunder obtained in quarter two. Rhino's goal keeper Keenan made Mvula's game difficult, giving Leeds Rhinos the chance to get equal with Thunder again. Laura Malcolm was on a mission to disrupt Rhinos attack, but Thunder lacked discipline in defence around the circle. Rebekah Airey came back on at goal defence towards the end of the quarter to strengthen the defensive circle and apply more pressure on Rhea Dixon, who seemed to be running away with the ball. The speed and the pace of the game continued ending the quarter 33 all with everything left to play for.
Quarter 4 saw just 12 minutes remaining of a game that had seen every inch of the court covered and game very much of two quarters. Thunder and Rhinos were running goal for goal with Thunder struggling to break the centre pass to change the flow of the game, due to Rhinos not allowing any ball to land uncontested. Almond made some great deflections but Thunder couldn't transition them into goals so with just five minutes to the end, it is still equal 40 – 40. Thanks to a combination of O'Hanlon and Malcolm combining to turn the ball over Thunder managed to break the goal for goal deadlock. The pressure told on Rhinos who missed two goals in a row and handed Thunder the opportunity to finally pull away to a 48 – 41 victory.
Head Coached Karen Greig said, "It was a bit of a roller-coaster, but we knew Rhinos were going to come out hard, kudos to them they ran us hard for the full game. Our consistency let us down which is something that we were looking for but it's great to have Rhino's back in the league, we've missed that derby, so having that derby day feel and going hard against each other, it was a fantastic game for everybody really. Ultimately, we showed that grit today which is something that's been lacking over the couple of games we played this season and we've really dug in when we needed to. There's obviously things that we need to take away and work on but the girls stood up when they needed to. We know Rhino's were going to come out hard and they played us really hard. At times, we got caught too high, we weren't looking to circle early enough which we showed in the last 5 minutes, when you go to circle early, it works. Just the consistency throughout, we played around with our centre court, which I know people have been talking about, but it's just about finding what's right for us and the reasons why we play people in certain positions. I think some of those questions were answered today. We've been asking questions of them all, we know they've got to have versatility across the positions that they're in. Caroline's learning to play that WA position and I think, at times, she's doing a fantastic job, and Amy came on and we had a chat before as she obviously wasn't in the starting 7 but we gave her a job to do when she did come on and I thought she did that really well and her and Caroline ultimately came up with the goods."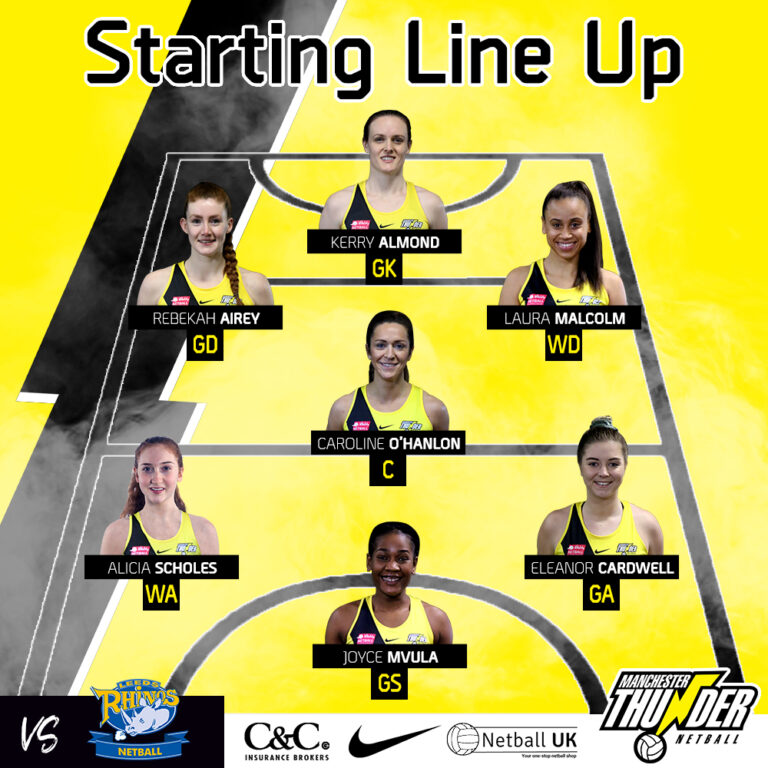 Captain Laura Malcolm said: "To be honest, when it comes to derbies, grit is it. I'm really proud of everyone tonight, we've worked on it in training and people had a slow start but we just gritted it out and I'm just really happy that everyone did that. It's something we're working really hard on, it's great to see that translating onto court. We need to keep working on being consistent, it's hard work to get a turnover in this league so when you get it, you need to look after it and that's something that we fell short on. So keep working on the grinds and keep working on the consistency. I've played WD all my life so it's really good to play, I'm enjoying any challenge I get so it's just about soaking in whatever the coaches are telling me, whatever the position and just delivering."
Laura has donated her Netball UK £50 voucher to Cheshire Stars Netball Club.
"I want to give it to those guys because I've coached them all year and they have been incredibly committed as a team throughout lockdown. They never skipped a beat with their zoom training and brought the energy every single week. They have taken it all in their stride and I think they are just amazing for being able to do that."
Photo credits @bensnapsstuff