Manchester Thunder vs Surrey Storm
From a solid double win on Thunder's last double header, Head Coach Karen Greig was gunning for the same. Despite quarter 1 and 3 having equal goals scored, Thunder pounced in quarter 2 to achieve 19 goals to 6 which clouded Storm's play and saw a bold Thunder win 35 – 52 final score.
Having lost their last 6 games, Surrey Storm were sure to come out with plenty of fight, but Thunder did not let that phase them. The starting 7 was reflective of the team that won last weekend's double header and the black and yellows were clearly wanted to keep their winning streak going.
Thunder opened the game quickly, slotting the first 2 goals in, however Storm were not taking this game lying down and responded with 3 goals of their own. The entirety of quarter 1 saw end to end play, with Thunder defence being difficult to break down, but Storm started creeping ahead 1 minute before the end of the opening quarter. A quick sub of Elia McCormick off for Rebekah Airey saw an instant reaction. As a result, Thunder managed to claw back the lead Storm had gained, and the whistle blew on an equal 11 goals apiece.
Drawing was not part of Greig's game plan, and Thunder came out in quarter 2 with fire in their bellies and showed more willingness, with 5 goals being scored in the first 2.5 mins of the quarter. Storm struggled to keep up with Thunder coming out so quick and with Malawi Queen Joyce Mvula's eye on the prize, there was no stopping her stepping up to the plate. Every Thunder player on the court played their part, influencing movements on the ball, and improved on each game play. Goal Attack Eleanor Cardwell showed her strength as Storm started scrambling, holding her own and enforcing her area. Thunder found their passage of play and saw 19 goals into the net to Storm's 6 which massively widened the gap, with a score line entering half time of 17 – 30 to Thunder.
Ay half time, a pleased Captain Laura Malcolm said, "Bekah came on and had impact straight away which is brilliant. That's what we want from people coming off the bench, but I guess we just started to consolidate our turnover a bit and start to ride the contest."
Following the lead gained in quarter 2, Greig took off Cardwell to rest her for the upcoming derby against Leeds Rhinos tomorrow and gave Berri Neil a chance to add more minutes on the court. A change in positioning gave Storm something to think about and saw them make 6 passes before they could move the ball forward to the opposing Thunder net. With Alicia Scholes and McCormick being brought on, Caroline O'Hanlon moved to Centre, and Storm tried everything to close the gap. However an equal 11 goals at either end, the score entering the final quarter was 28 – 41 to Thunder.
Quarter 4 saw both teams empty their benches, pulling out all the stops. Thunder's defence was getting so tight, Storm had 2 held balls against them, showing that the northerner's had really cut down the southerner's options. Scholes had a big impact with her sharp, nippy movements on the ball and ability to be so quick between players, influencing how the game played out. The dominant performance reflected in a smashing final score of 35 – 52 to Thunder.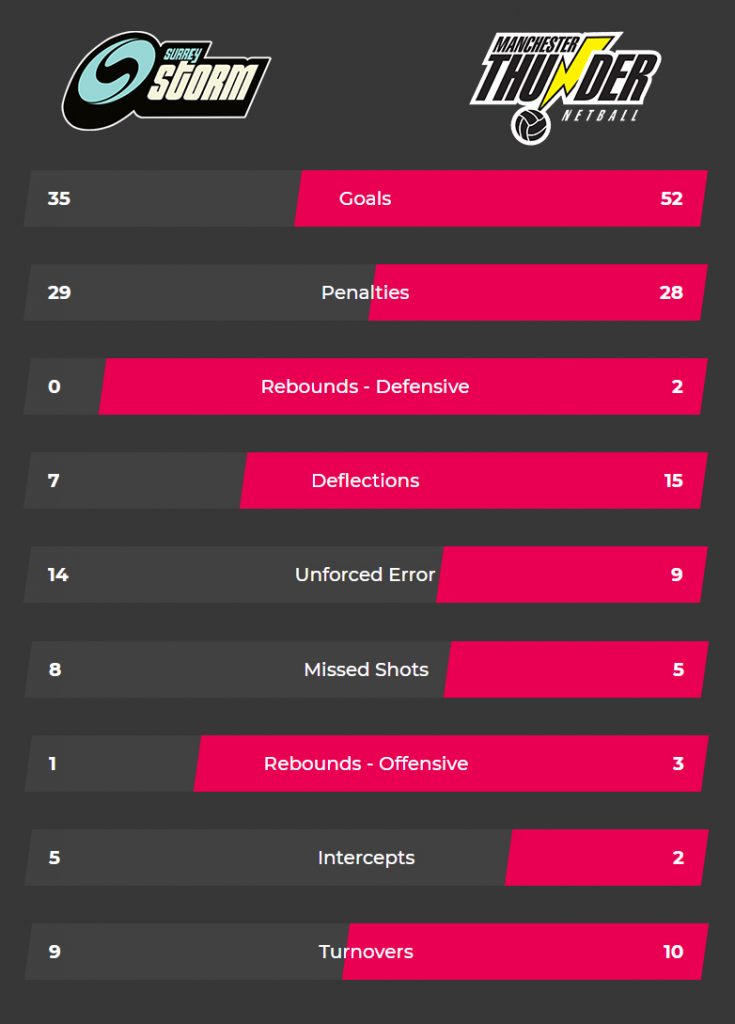 Photo credits @bensnapsstuff