Manchester Thunder vs Surrey Storm
Thunder clinched a win against Surrey Storm by not resting on their laurels, despite having just confirmed their spot in top four.
Storm asked many questions of Thunder, especially in the first half where Thunder found their skills being equalled by Storm thanks to their quick passage of play. The black and yellows however, dealt with the pressure with their tenacious attitude and forced sloppy errors upon Surrey. This is where players like Emma Dovey revel and make great interceptions. She achieved three turnovers and four deflections during the first quarter which allowed Thunder to stretch their lead going into halftime with a scoreline of 29 – 21. Laura Malcolm emphasised how they need to reward themselves for the hard work by not only taking the ball, but scoring it.
Thunder found their feet in the second half of the game and rode the storm. Caroline O'Hanlon had some great takes whilst Joyce Mvula was grappling with Surrey Storm goal keeper Alima Priest to keep the ball in Thunder's grasp.
The hard work of Thunder's experienced players gave the youngsters a chance to come on in quarter four all guns blazing and maintain the dominant tone that had been set. By the end of the game, five out of the seven players were aged between 18 and 21. This is a true show of Thunder's pathway reputation as all the athletes that enter the court have similar strength to those who have been with Thunder for over a decade. Recent debut star Millie Sanders held her own against rattled Storm players which gave Thunder's defence a tight line to maintain as the clock counted down.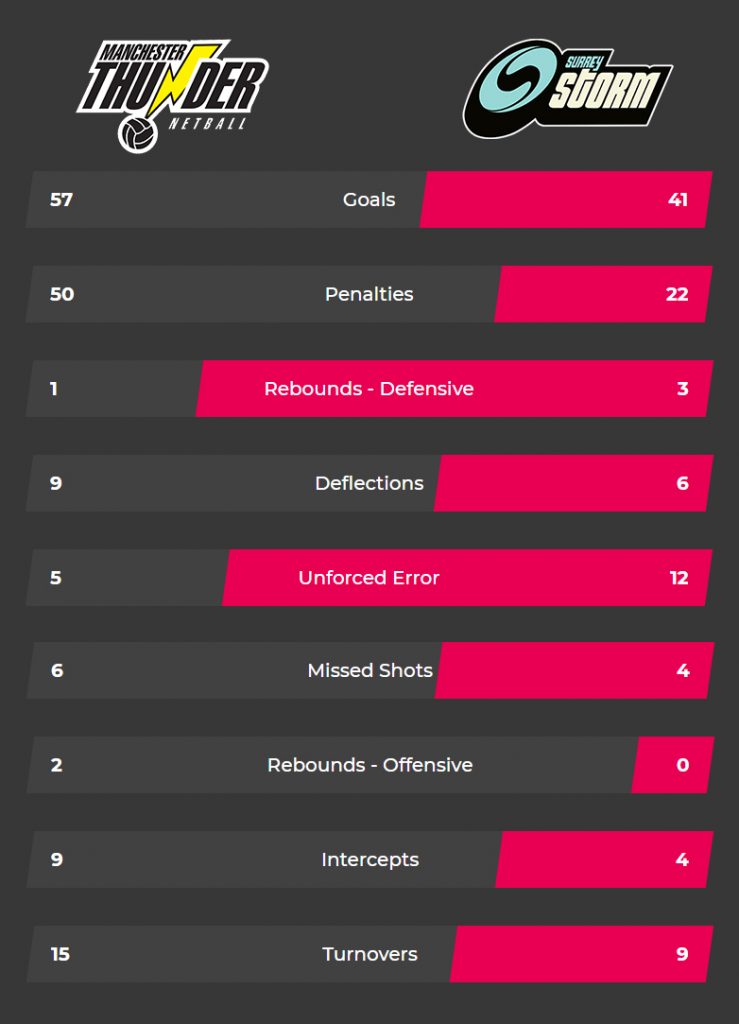 Photo credits @bensnapsstuff