Manchester Thunder vs Wasps Netball
With Wasps needing a win to secure a top four place, Manchester Thunder played one of their toughest, most competitive games of the season but Thunder managed to scrape a win of 53 – 47.
Similar to the Superleague final between the rivals also 2 years to the day, the vast majority of the game was neck and neck. Wasps took the lead a number of times but Thunder stayed hot on their tails and trusted the process. 
Captain Emma Dovey described the first half as 'scrappy, making far too many basic errors' however that wasn't to say Thunder backed away from the Wasps. Amy Carter made some classic fiery intercepts whilst Eleanor Cardwell actually dropped back into the circle for Mvula to come out and take the offload through the middle. At the other end of the court, the tight defence from Kerry Almond and Emma Dovey forced Wasps to pass back to try and get forward through a different route.
Amy Carter passed strong long balls to Mvula; some went so high, Nasa started observing them. Mvula then continued to slot the goals in thanks to her strength and athleticism tied in with her innate ability to know exactly where the defender is on her and therefore, get round them. Both Rachel Dunn and Cardwell were easily finding space at the back to score so the game continued to be neck and neck for some time, with half time seeing an equal 24 – 24 score line. 
Dovey was then swapped with Rebekah Airey, and brought back on as WD in quarter three. The two have a different style of marking with Airey being an off marker whereas Dovey is very much a 1-on-1 marker. This change, alongside Keeper Kerry Almond holding the number one spot for deflections and Thunder having the highest centre pass to goal averages started causing a small problem for Wasps. Passes to the shooting circle were becoming harder which gave Thunder a chance to build up a small 4 goal lead ending the third quarter. 
Thunder however lost this lead again in quarter four so they found themselves toe to toe once more. However Dovey managed to bolster spirits and Thunder's defence clamped down in the final minutes to hold onto the small lead they had scraped together. Wasps reaction was to double up on Mvula but this allowed Cardwell to calmly step up and clinically shoot. The gap slowly widened as the clock counted down and Mvula scored one last goal in the dying seconds to really rub salt in the wound and end the game with a 6 goal difference.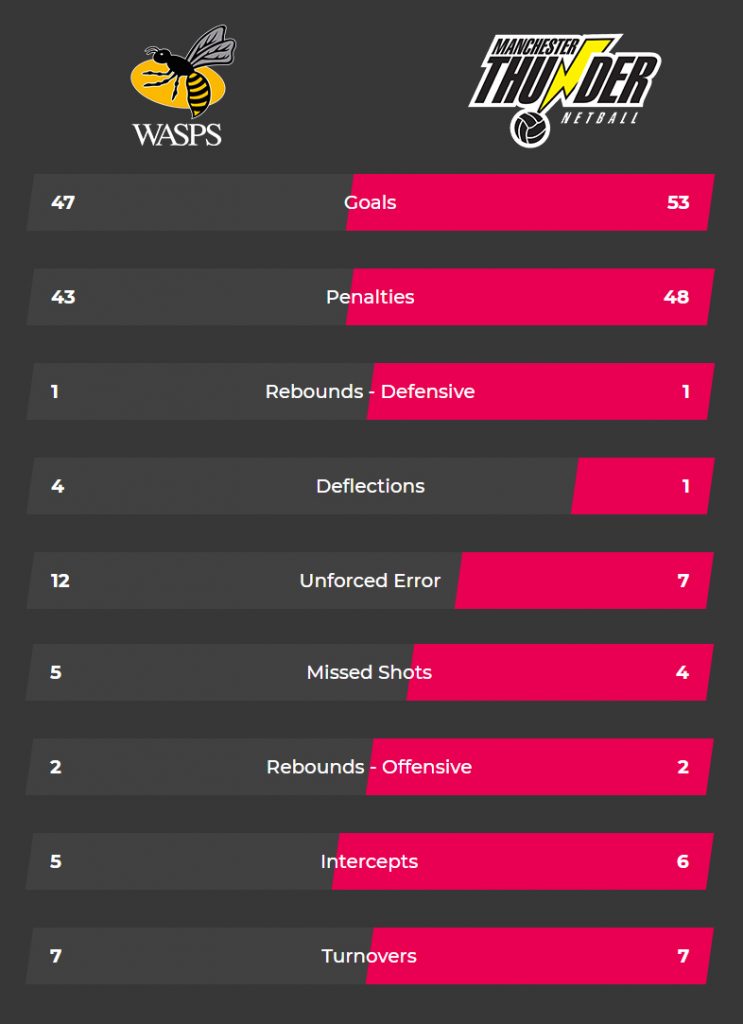 Photo credits @bensnapsstuff